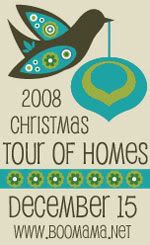 Because I had my doubts this past week. For those visiting for the first time, I'm a southern girl who kept going south, all the way to sunny Argentina. We moved into this little house in October. We've been cleaning and painting although there's still more of both before we can totally unpack and get settled. But I was bound and determined to at least get the living room ready for
BooMama's Christmas Tour of Homes
! Before we get started though, would you like to grab a little
party parfait
to enjoy during your visit? If you like chocolate at all, you will enjoy this since there's a double dose of chocolate in the brownie and the pudding :-)
I finished sewing the last curtain at 5 p.m. on Sunday but then we discovered we didn't have enough hooks to hang the last panel :-( But 8 of the 9 are up and our
two walls of windows
are looking mighty fine, we think.
Also on Sunday we visited a friend who has several pine trees in her yard and she was happy to let us trim enough to create a lush Christmas swag. Inspired by
The Nesting Place
, the hubby did a phenomenal job of forming the swag and then I went to town with a few ornaments and some ribbon.
I have BIG plans for a much grander swag next year, after we've had time to dry some hydrangea blossoms and gather pine cones, eucalyptus, and other goodies.
Not all of it was last minute, though. After picking up these green and blue ornaments during our
shopping marathon last Tuesday
, I filled a bowl for the table
(and the rest we used in the swag)
.
And prior to that we put up the tree and the Christmas quilt. I made the quilt a few years ago, before I learned about how to square things up. But we like the wonkiness of it :-)
The tree skirt was also quilted, by a dear friend and supporter in Michigan.
My cell phone camera isn't quite up to the job
(no rude remarks about the photographer, please!)
and a lot of the photos are too blurry to use. So let me just tell you about the handmade silk poinsetta blossom that I received many years ago from a lovely lady who has since died. Every year when I unpack that blossom and put it on a basket or around a candle stick, I think of her talent and generosity.
Now before I go, I just want to share a couple of favorite ornaments. Back in our Florida days I participated in an annual homemade ornament exchange and accumulated quite a stash. But not all of them survived their sojourn in mini-storage. I'm so happy a few of my Wise Men did! Here's one of them; isn't he just the cutest thing?!
And this ornament never fails to elicit a surge of love and joy.
It's just a cheap plastic frame that was part of a portrait package from Kmart but it's value to me is priceless. In 1982 my firstborn had just turned a year old and was wide-eyed with wonder at Christmas. I'll be sharing more about him on his birthday this Wednesday.
Finally, here are our ornaments for this year. For the first time in 27 years it's just the two of us again. So we picked a pair of pears :-) Can you guess who's green and who's blue?
By necessity we've gone for a more minimalist look this year. As I've mentioned before, we didn't bring a lot of Christmas decorations with us, and it hasn't been easy finding things down here. The few stores that carry anything have limited stock. But I'm thinkin' we kinda like this new
pared
down look.
hehehehehe (Sorry, couldn't help myself.)