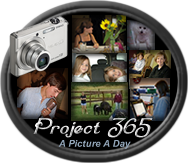 Enough about the heat already.
No more posts about how hot it is. Unless it's still like this in March. Then you might hear about it again.
Anyhoo... despite the soaring temperatures this week we enjoyed a number of get-togethers with friends and that's reflected in this week's
Project 365
photos. For a change there are more people photos than inanimate ones (although several also feature food).
Last Sunday we finally got our act together and Tina took a number of photos of us since we needed a new one to send to our home church. She had to take a lot in an attempt to get a decent shot. I cannot stress how much I hate having my picture taken. It's a genetic thing I inherited from my mom, along with the nervous tic that causes me to close my eyes right along with the shutter on the camera which results in me looking demented, drunk or just plain dumb. I think Sunday the count was 15 to 1.
Thursday night we had Nestor and Graciela over for
asado
. We joked that Ivan is Nestor's
"asado disciple"
. Those two really enjoy preparing
asado
. And the rest of us enjoying eating it!
postre
(dessert) which happened to be a kilo of ice cream from Venezia's. An interesting flavor combination of strawberry (real, whole strawberries included!), chocolate, fig with nuts, and kumquat with whiskey. Yes, a very
interesting
combination. Here's Ivan filling cones to order.
NO, these are not the new glasses!
Ivan snapped this photo of me while the optometrist was double checking his original measurements to make sure everything was right -- and it was.
AT ALL
to read. It's been a rather frustrating quest to get a pair of functional glasses. I'm ready to go back to regular old bi-focals and am hoping that's an option when we talk to them on Wednesday.
Cooler weather on Saturday meant we could actually enjoy sitting outdoors with friends for (yes, another!)
asado
. Our friend Abram invited us to join him and his kids, his neighbors, other relatives and friends...16 in all. We made new friends and had a great time.
While we contend with the summer heat, it'll be fun to read the winter adventures of other
Project 365
participants. Maybe that will make me feel cooler too.