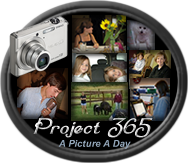 We haven't done much due to all the sickness this week so not a lot of photos to choose from. But I'm committed to
Project 365
so here we go with what we got.
(Forgive the poor grammar, but it's been a long week and
estoy muy cansada
).
There are vast numbers of large, ugly, loud birds near
Centro Esperanza
(remember the dead bird high in the tree around Halloween?). Last Sunday one of them roosted on top of the car port area and I snapped this photo. There's a screen-like material between the camera and the bird, so it's rather blurry.
And now, if I don't hurry up I'm not going to get this posted Saturday night and I'll have missed my first day of posting this year.