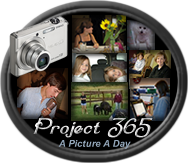 Have you ever gotten to Friday and realized you haven't gone anywhere all week, or done anything, or taken any pictures for
Project 365
? This was that kind of week. So in the interest of full disclosure, my midweek photos are actually Sunday morning photos but they represent my week (I did think long and hard --
at least five minutes
-- about what to shoot this morning that was indicative of the week).
Sunday was the all-day trip back from Mendoza. When we stopped for gas in San Luis, I was fascinated by this beautiful mural.
We broke up the trip with one stop besides lunch (and the necessary potty breaks) by visiting a small olive oil factory. I use the word factory loosely. It's an orchard in Villa de Las Rosas, an area famous for their olives and olive oil. [Side note: this is where we tried to take our anniversary trip last year which was cut short when the hotel didn't have sufficient heat.] Doesn't look like much from the outside, does it? Sort of like a regular house almost.
The Splendid Table
, is the best. Bigger processors take the pulp waste and run it through an additional heat treatment to extract even more, but inferior, oil. This place just collects the pulp and uses it for fertilizer. These smaller places are referred to as being
artesanal
(in the U.S. they're called artisanal). We bought several bottles to try and I have to say it is the best olive oil I've ever had. So delicious! My favorite is the basil infused oil.
As wonderful as our time in Mendoza was, we were all happy to get home (especially after that killer drive). Here's what you see from my front gate. My geraniums are going crazy now that the rains have returned, and the oleander is blooming like crazy too. Not sure what happened to the little patch of grass beneath the tree though; looks like the rain came too late to save it.
Our garden is flourishing. We've begun harvesting lettuce, swiss chard and green onions. The beans are going great guns but it'll be a while before they're ready. Same with the squash and peppers.
looooooong
time because it was quiet, cool and peaceful. The perfect ending to a busy day spent mostly on hot, noisy city streets crowded with thousands of pedestrians.
A photographical update on the project next door:
That wraps up the week for me. Head over to
Sara's
for more Project 365!